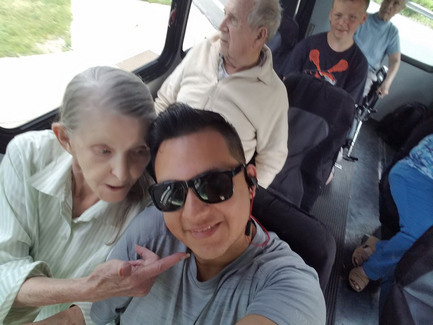 Memory care benefits many seniors who face challenges in their daily lives. It helps them recall important information, and it conditions them in ways that helps them remember.
The Alzheimer's residents at Applewood Our House benefit from our memory care activities. This helps them focus on their concentration and attention skills. Residents who have Alzheimer's and other forms of dementia need to find ways that connect them to their daily world. We use physical activities, psychological enforcing, and social interactions to help them increase their memory skills.
Memory Care Activities
Here is an example of the types of activities we use for memory care at Applewood Our House:
Doing Physical Activity – Stretching, walking, and any other types of low-impact physical activities really help seniors. Our residents are usually in a better mood after some physical activity, and it seems to help with their cognitive skills.
Participating in Social Interaction – Any types of social interaction with family and friends helps cognitive function. It reminds them of the past and helps them concentrate on the present, because our residents are socially involved with someone they can remember and relate. In addition, simple activities such as going out for an ice cream, or dancing helps, as well.
Working on Quizzes and Puzzles – When participating in quizzes or searching through a crossword puzzle, seniors dig up information that was forgotten, or just was not used in quite some time. By repeating and reinforcing, our residents often retain that information for some time.
Listening to Music – Music helps with recall functions of the brain. When music is playing that seniors like, the words often come back and their faces often light up. Music also helps reduce stress, which helps in the memory process.
Watching, Listening to or Reading the News – Reading keeps the mind active and reading and listening to the news helps seniors recall other information stored in the brain. It gives them more to talk about and when it is some positive news, it helps them laugh and relax.
We have a saying at Applewood Our House that when residents come to our facilities, this is where new memories begin.
   I am very pleased with the kindness and patience of the staff."